By Shruti Gupta
Things embraced on a high note in June 19, 2022 at Bihar Couture Runway fashion show organized by SR Adventure and his entire team specially Abhishek Kumar at Gyan Bhawan Convention hall held in city Patna, capital of Bihar, with designers serving up sumptuous shades, classics and artisanal craftsmanship techniques flooded the runway. Closing the show , renowned fashion label ZILLINIE (Instagram – zillinie official) by the celebrity fashion designer AHMED ALI,a Delhi based, for many famed personality – Anil Kapoor, Virendra Sehwag, Jatin Sapru, Guru Randhawa and many more in the counts.
The designer amped up the runway with the most spectacular ensemble of women's wear and
Men's wear, glided textiles and ornamentation on them. But the real signifier was the focus on the showstopper of the closing show was an Indian actress and former fashion model ZEENAT AMAN. The actress wore a Silk- satin Kaftan Dress in the shade Grandeur Plum which also had the reflection of ruby, fabulous grape and framboise in the stage lighting. The ensemble was embellished with gold floral zardozi intricate hand work. Embracing the craft the designer worked precisely with the artisans to create the ensemble larger than the life for the actress. "I love the gold zari work detailed embroidery and the perfect fit of the garment make me feel beautiful and comfortable. I will take this outfit with myself" said the actress. The actor had an aura when she arrived on stage while her most popular song "chura liya" added the feel, the audience stood up, bowed down in respect of the showstopper Zeenat Aman.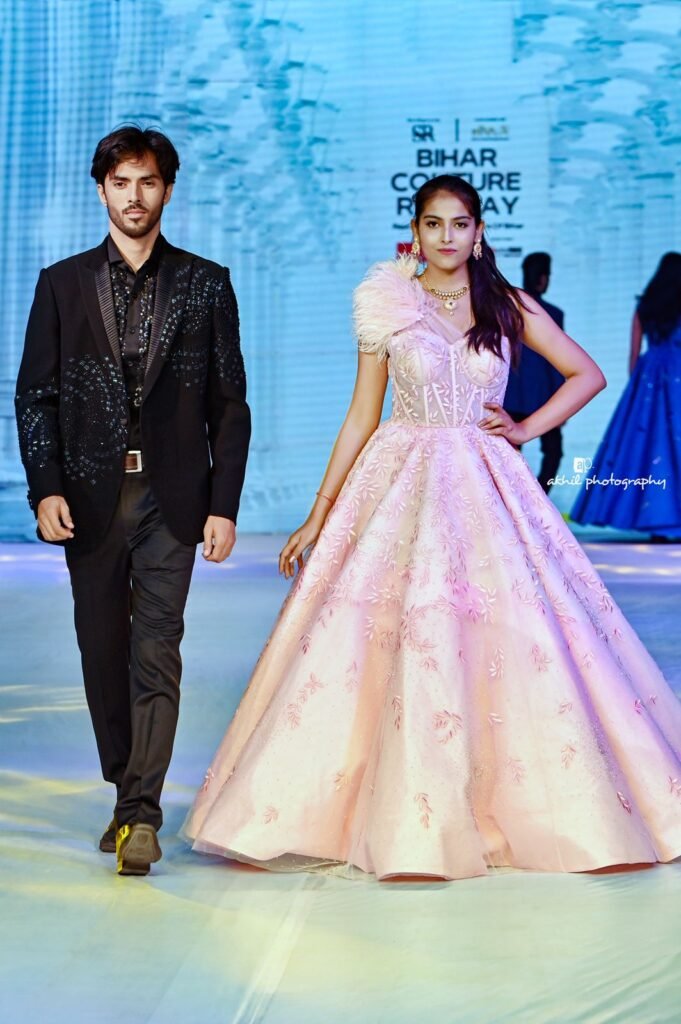 New comer, stylist Shruti Gupta says styling THE ZEENAT AMAN ma'am was a beyond dream moment. It was an honour in the start of my career to work with a mega star of the Indian cinema. The love and affection I received from her is divine. The show was also honoured by the presence many known personalities from the city and fashion enthusiast. Captain Aryan Sinha a businessman from Patna, a pilot, a car enthusiast and a gregarious human. Captain's love for fashion been the true- blue behind the success of the show.